One of the iconic tacos from the central part of México are without doubt 'tacos al pastor'🌮
It is also one of the most popular tacos in all of México.🇲🇽
The meat is pork which is marinated with 'achiote' – also known as annatto, dried chillies🌶, and spices.
Traditionally the meat is stacked and slow-cooked on a vertical and rotating rotisserie. We refer to it as 'trompo' – translated as spinning top. In some parts of the country, they refer to these tacos as 'tacos de trompo' or spinning top tacos😁
This is a simple homemade version and therefore you don't need a spinning top☝️, it is all about the flavour!🤤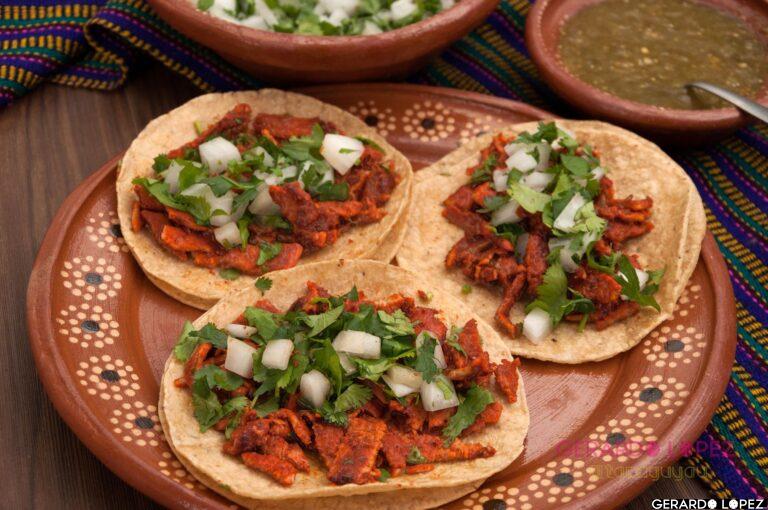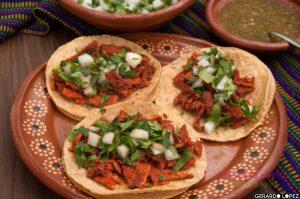 Homemade Al Pastor Tacos
Tacos al pastor caseros
This is a handy recipe to make 'Al Pastor' tacos at home without having to assemble a spining top, and still getting all those flavours from the king of tacos.
If you can't find achiote paste, try asking for annatto seeds - which are used in cuisines from Vietnam and Phillipines.
The marinade is the key to this recipe, so allow for the meat to marinade at least overnight.
Print Recipe
Ingredients
1

kg

free-range pork loin fillets

boneless

3

guajillo chillies

large

30

g

achiote paste

also known as annatto

½

white or brown onion

2

garlic cloves

½

cup

white vinegar

1

orange

3

cloves

1

pinch

mexican oregano

Vegetable oil

Salt and pepper to taste
To serve:
24

corn tortillas

preferably from La Tortillera

400

g

fresh pineapple

diced

½

white or brown onion

¼

coriander bunch

2

limes

Your favourite salsa
Instructions
In a saucepan, boil about a litre and a half of water. Remove the steam, seeds and veins from the chillies and add to boiling water, turn off the flame and leave to simmer for ten minutes.

For the marinade, cut half of the onion into quarters and blend with the achiote, garlic, vinegar, orange juice, cloves, oregano, and the rehydrated chillies, add salt and pepper to taste.

Place the meat fillets in a bowl, add the marinade, and mix thoroughly to cover the meat well on both sides. Cover the bowl and let it sit in the fridge overnight.

Heat a little vegetable oil in a pan over medium heat, add the meat fillets and cook for 3 minutes f on each side or until brown. Make sure you gently scrape off the leftovers on the pan in between fillets to prevent burnt bits from sticking to the meat. .

Cut the pork into small pieces and put in a container with a lid, you can use the pan with a lid that fits.

Reheat the tortillas in a very hot pan, about 15 seconds on each side. I suggest you do them in piles of two to trap the moisture released by each tortilla.

Chop the other half of the onion along with the coriander and reserve for garnish.

Using a double tortilla for each taco, fill them with the pork, and add pineapple, chopped coriander and onion on top. Make sure you have some limes, cut in half, and salsa to the ready to put on each taco.

¡Buen provecho!
Related Post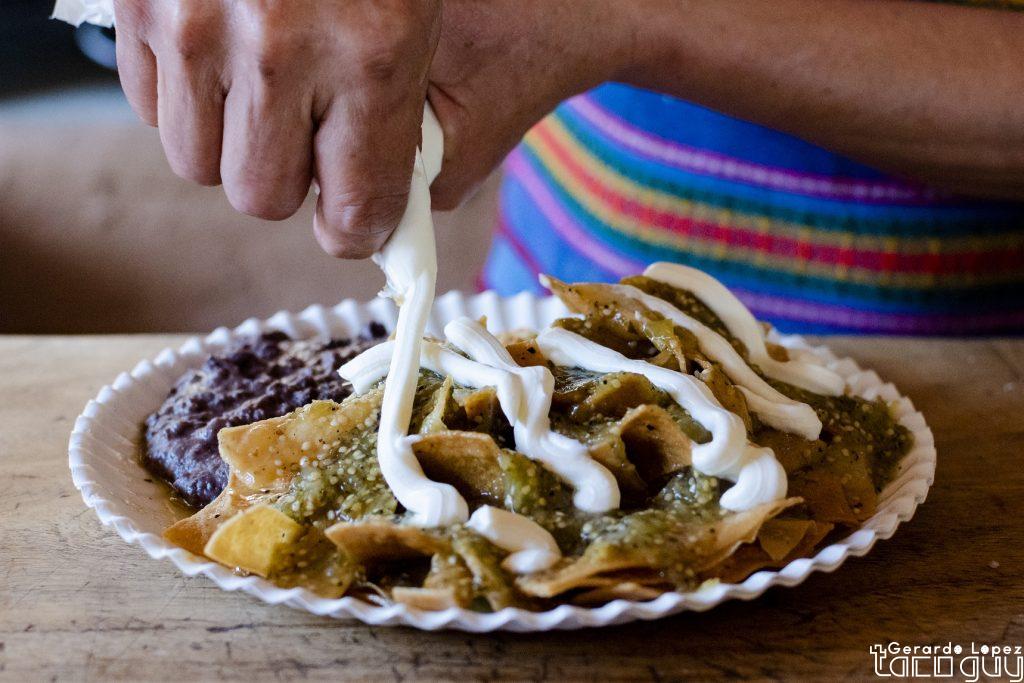 Chilaquiles… An Authentic Mexican Tradition
Other Recipes