At my parents' house in Mexico, it was traditional to have pozole for Mexico's Independence day and also during the celebrations leading into Chrismas – also known as 'posadas'.  It is a celebratory dish that brings family and friends together.  It is also a personalised dish, everyone has their own quantities, order, and peculiarities on how the garnishes are applied.
I personally like using chili flakes and lime first, followed by the radish, onion, and coriander.  I also like eating this dish with a tostada instead of a tortilla, but then there are some people that like to sink the tortilla in the bottom of the plate. There are people that like to add eggs, sardines, and just like tacos, the combinations are endless.
During the filming of This is Mexico, we visited one of the most popular 'pozolerias' in Mexico City. El Pozole de Moctezuma, is an institution in downtown Mexico city but people from all over Mexico come here to try the pozole.  They have different pozoles from different regions of Mexico, but owner Jeronimo explained to us that their specialty is the green pozole from the estate of Guerrero. It was impressive to see all amount of ingredients and garnishes that go into this dish.  Check it out on episode 6 of This is Mexico.
Apart from flavour, this national dish is also full of controversy.  From the Spanish chronicles during the conquest of Mexico, we found that Mexicas, wrongly referred to as Aztecs, used to prepare this dish with human flesh.  Given that human sacrifices did occur during this part of the history of ancient Mexico, it is not hard to believe this was the case.  The Spaniards introduce pork to America and it is said that it was adopted as a replacement to human meat given its similarities in taste — a guess most of us will never be able to do a comparison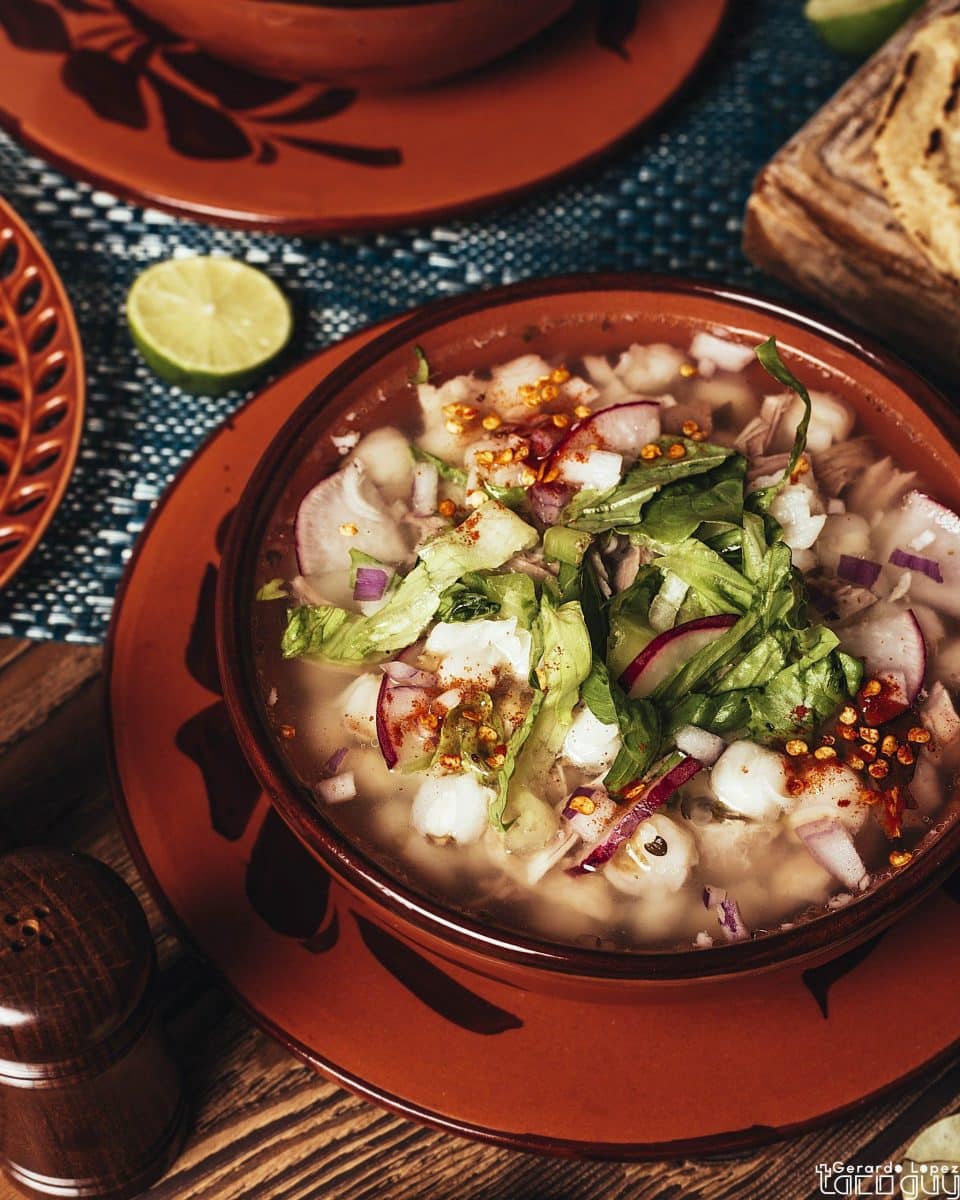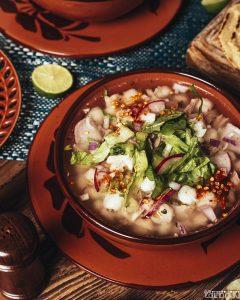 Pozole Blanco
Pozole blanco
Pozole is a classic of Mexican cuisine and a truly celebratory dish. Every region, town, and even family would have their own recipe. This is the pozole recipe my mum used to cook for me when I was growing up in Mexico and nowadays every time I come back to Mexico.
Print Recipe
Ingredients
1

kg

of hominy

drained and washed

1

kg

of pork loin

skirt or leg, deboned and cut in 5cms chunks

1 ½

ltr of chicken or beef stock

1

garlic clove

1

white onion

peeled

1

bouquet garni made with 6 peppercorns

3 cloves, and 2 bay leaves

Salt to taste

1

white or red onion

finely chopped for garnish

6

radishes

sliced for garnish

Oregano

preferably Mexican oregano for garnish

arbol chili flakes

or chili powder of preference for garnish

4

limes

cut in wedges for garnish

½

lettuce

finely chopped for garnish

Tostadas

baked or fried to serve
Instructions
If hominy not cooked (dried corn), place it in a saucepan with 2 litres of water and cook until the corn blossoms and drain. This may take several hours, at least 2 hours.

In a large saucepan add the stock, the pork chunks, the cooked hominy, garlic, and bouquet garni and cook in low heat until meat is fully cooked.

Remove the garlic, onion, and bouquet garni. Add salt to taste.

Serve hot in bowls and place the garnishes on a side plate or in the middle of the table for each person to prepare their own pozole.
Notes
Hominy is the main element of this dish but if you have access to 'cacahuazintle corn' use that instead.  It just means that you need to cook for longer. 
If you can't find hominy, a good substitute would be chickpeas but always try to find corn or hominy before resourcing to this option. 
Yes, you can use hot sauce instead of chili powder or flakes, but I personally prefer arbol chili flakes or powder. 
Related Post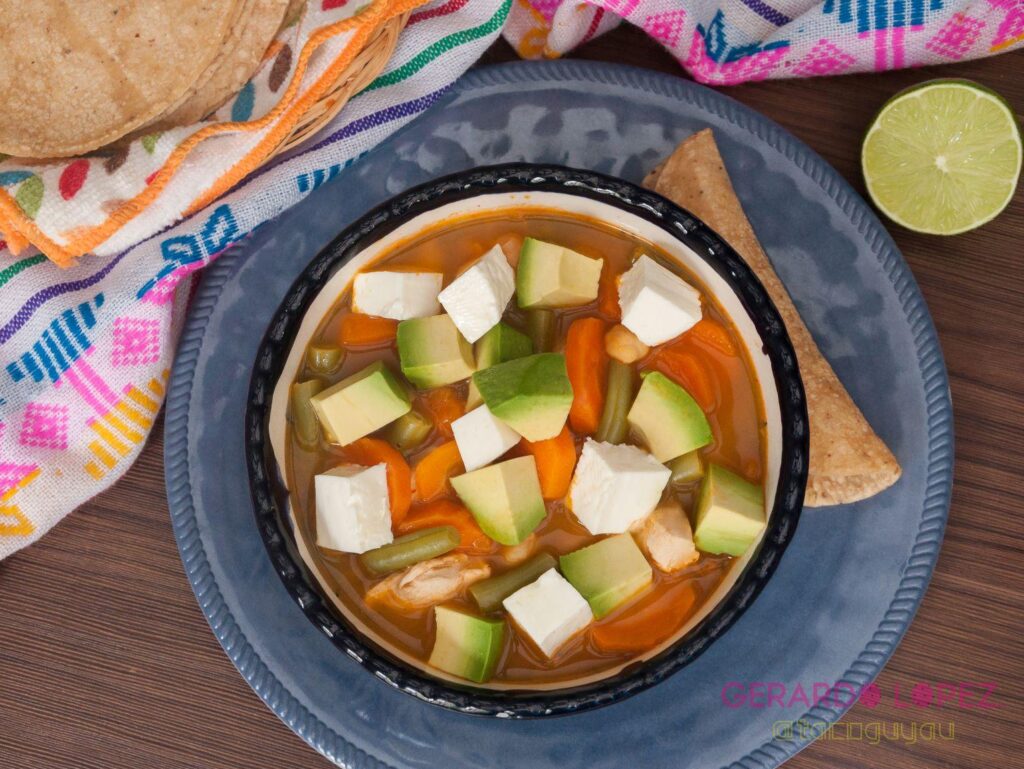 Caldo Tlalpeño
Caldo Tlalpeño
Other Recipes