Poblano chillies are not easy to find in Australia.  First, they are seasonal and only grown in certain parts of the country.  Then you need to find a place that sells them and be lucky that they are not spotted and taken by other curious shoppers.
I remember that 'rajas con crema' were served at parties in big bowls, alongside other 'guisados' or traditional casserole dishes,  for each guest to grab their hot tortillas and prepare as many tacos as wanted.
Poblanos are tricky chillies, as sometimes they can be spicy and some other super mild.  I feel like it is a luck thing, to find the spicy ones 🙂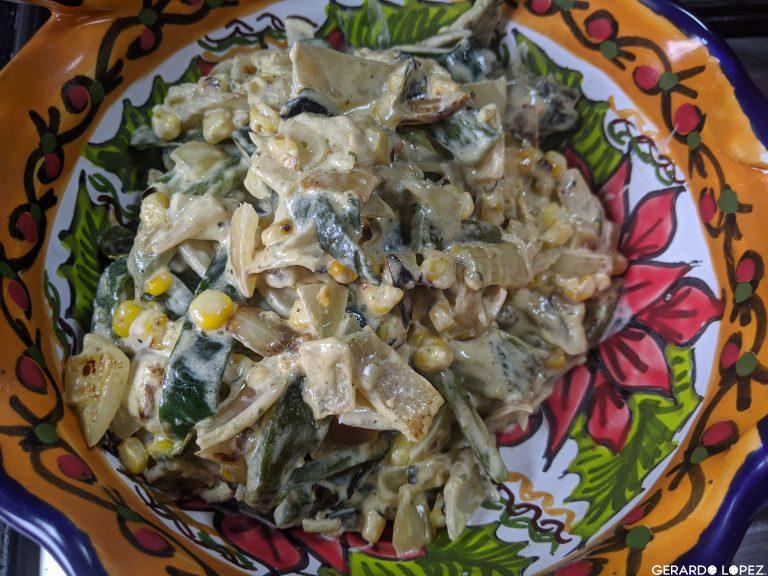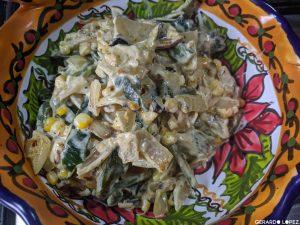 Roasted Poblano chillies on a creamy sauce tacos
Rajas con crema
A simple recipe that combines the heat of the chillies with the calming effect from the creamy and dairy-based sauce. A simple recipe to be enjoyed on a taco or as a side.
Print Recipe
Ingredients
4

fresh poblano chillies

don't recommend using tinned ones as substitute

1

tbsp

butter

1/2

white or yellow onion

1

fresh corn

kernels cut off

100

g

cream cheese

100

ml

thickened cream

salt to taste
Instructions
On a grill or frying pan, char the whole poblano chillie on all sides. Place the chillies in a glass or plastic container for 10-15 minutes. The chillies will soften up and continue cooking in their own steam.

Using your fingers or a damp towel peel off the skin from the chillies by stripping off the blackened parts. Then open up the chillies and cut out and discard the stems, seeds, and inner veins. Cut the chillies into long stripes, about 1cm wide.

Heat the butter (can use vegetable oil instead if you want) in a large frying pan on medium heat. Add the onions and cook until translucent, about 3 to 4 minutes.

Add the corn kernels and chilli stripes and cook for 5 minutes. Then add the cream cheese and thickened cream. Let cook for several minutes, until the chiles are completely cooked through and the sauce is bubbly and a little reduced.

Reheat your tortillas and fill them up with 'rajas con crema'
Related Post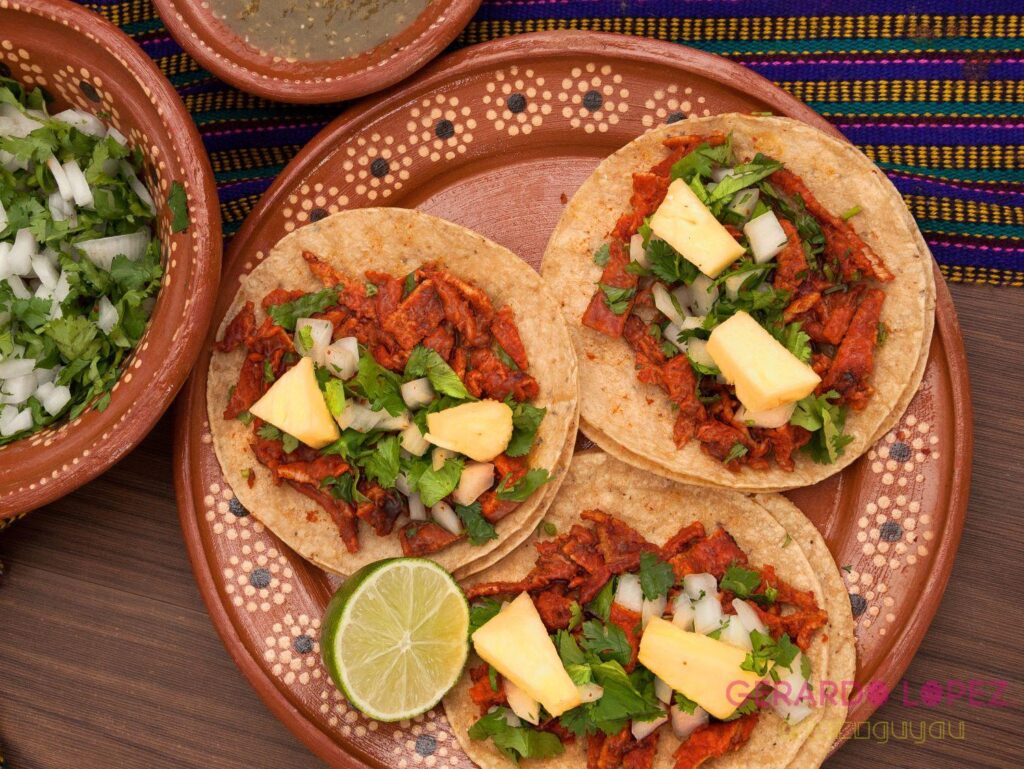 Homemade Al Pastor Tacos
Tacos al pastor caseros
Other Recipes