Beans are one of the many ingredients that have their origin in the American continent, specifically in the area now occupied by Mexico, Guatemala, and El Salvador.
Frijol, as we know it in Mexico, is one of the cornerstone ingredients of Mexican cuisine alongside chilli and corn. I normally refer to the three as the Mexican Cuisine Trilogy.  It is common to find them growing side to side in the milpa.  According to wikipedia, 'Milpa is a crop-growing system used throughout Mesoamerica. It has been most extensively described in the Yucatán peninsula area of Mexico. The word milpa is derived from the Nahuatl word phrase mil-pa, which translates into "cultivated field.'
In Mexico, there are more than 58 species of beans and the black used for this recipe is only of them.
Frijoles refritos, as we know them in Mexico, are generally prepared with lard but for this recipe, we use cooking oil.  I suggest using vegetable like organic canola oil.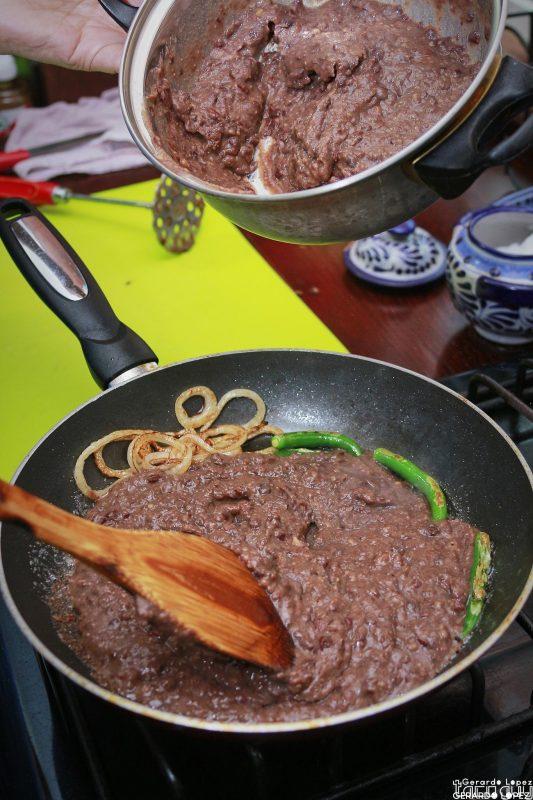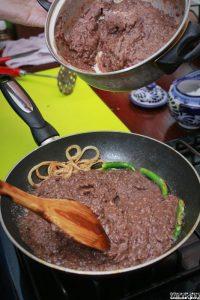 Refried Beans
Frijoles Refritos
'Frijoles refritos' is one of the cornerstone recipes of Mexican cuisine. Translated to refried beans, this recipe is used as a side, a topping, or a filling. Given that this is a very easy and versatile recipe, I always have them ready in my fridge.
Print Recipe
Ingredients
250

g

dried black beans

¼

brown onion

1

garlic clove

1

fresh green chilli

serrano or jalapeño, sliced

8

tbsp

cooking oil

salt to taste
Instructions
Rinse the beans in cold water. Place them in a container and cover them in cold water, keeping them in the fridge overnight. The next day, drain the water and boil them in fresh water until soft and cooked. This normally takes about 1 hour.

The final texture should be 'a little overcooked'. Add salt when the beans are still hot, and smash using a potato masher.

Heat oil in a frying pan. Fry the green chilli and onion for approximately 3 minutes. Add the beans paste. Over medium heat fry the paste for 3 to 5 minutes stirring consistently. Then add the beans and cook until heated through.

¡Buen Provecho!
Related Post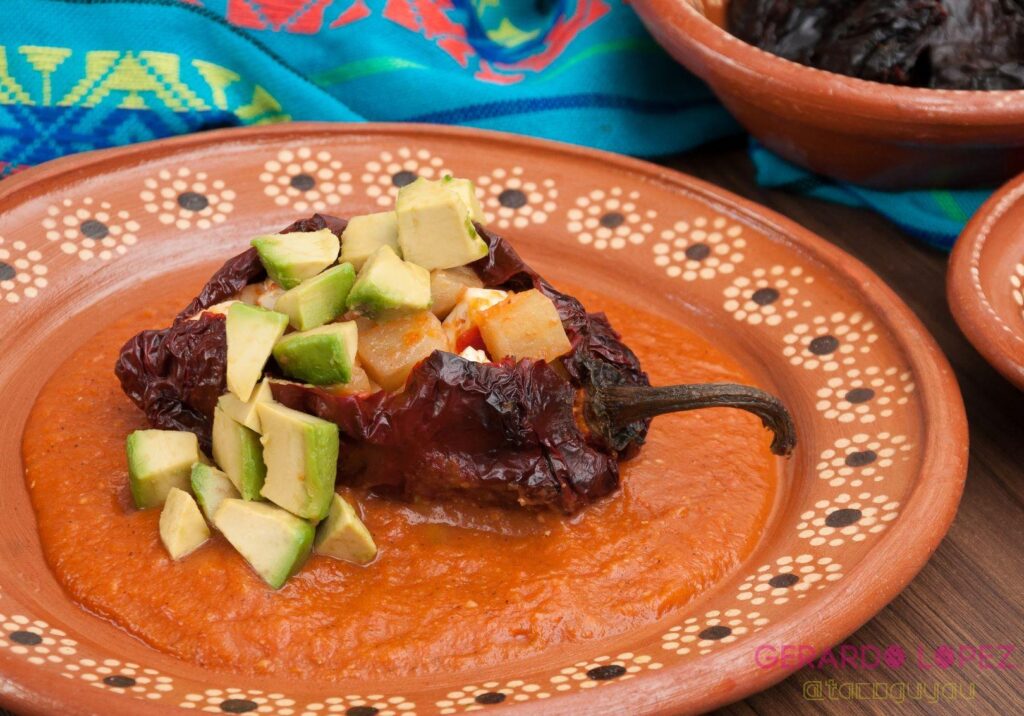 Stuffed Ancho Chillies
Chile ancho relleno en salsa de chipotle
Other Recipes