Oaxaca is unique in culture, architecture, and cuisine to the rest of Mexico. I like to think that the high mountain ranges that surround the state are responsible for its isolation from the rest of the country.  And to me, Oaxaca's gastronomy is the best in Mexico and potentially in the world.
The food in Oaxaca is so unique. Moles are so delicate that have captivated the palates of the top chefs in the world. Spices and ingredients are wild and exotic at the same time. Tortillas are different too.  You can say that 'tlayudas' look like tortillas but they are actually bigger, so big that some get to sizes of 60cms in diameter.  They are also a bit thicker and more sturdy than tortillas, so they don't get crunchy when prepared on the grill but rather harder but malleable.
To put it simply, a 'tlayuda' is a large tortilla made of corn of at least 30 coms in diameter which is brush up with lard on top and place on a comal (or flat grill) to cook.  Once it is hot, a layer of beans is put on top followed by cheese and your favourite topping.  When it is ready, it is garnished with tomato, avocado, and onion – and of course, your favorite salsa.   But this is an over-simplification, just like tacos there are hundreds of combinations for 'tlayudas'.
The recipe below is just a basic one.  It is the recipe I learned from my dad's family who are originally from Oaxaca City.  Note that there is no lard used or comal, but instead, we using chorizo and an oven. I'm aware that 'tlayuda' bases are not widely available so I have provided in the notes a way to replace them with standard corn tortillas, regardless of the size.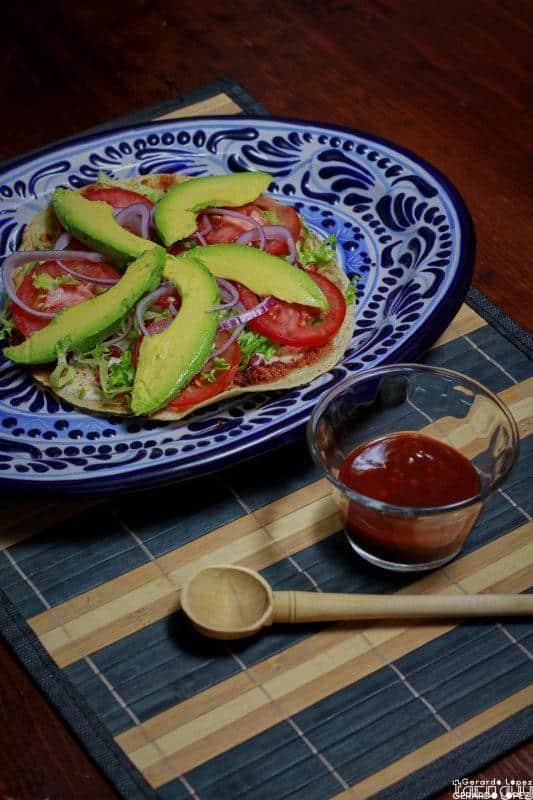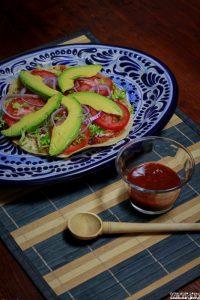 Tlayudas
Tlayuda de Chorizo
Think of tlayudas as a Mexican pizza, but instead of a wheat base you have a corn tortilla and instead of tomato sauce you have beans. Then whatever you put on top it is up to you, just like you will do with pizza toppings.
Print Recipe
Ingredients
2

avocados

sliced

100

g

lard

use ghee for vegetarian/vegan option

4

'tlayuda' bases

substitute with the larger corn tortilla you can find

500

g

chorizo mince

if you can't find mince then finely chop the chorizo

400

g

Oaxaca cheese

or shredded mozzarella cheese

2

tomatoes

sliced

1

red onion

sliced

2

cups

refried beans

substitute with tin black or pinto beans
Instructions
On a frying pan, lightly fry the chorizo adding the lard or ghee. Remove chorizo from stove after 10 minutes or when fully cooked and set aside.

In a blender, add the beans and the fat/oil left on the pan. Blend until you obtain a runny paste.

Cover the tlayuda with a layer of bean paste.

Then add the chorizo on top and cover with cheese. Place in oven at 120⁰C for 5 minutes or until cheese melts.

Take out from the oven and add the avocado, onion and tomato on top.
Notes
You can replace the chorizo with beefsteak, or boiled chicken. Or whatever your favourite pizza topping is.
For a vegetarian option, remove the meat and add more beans.
If you are unable to find tlayuda bases, use the largest corn tortilla you can find and reheat until soft before putting the beans on.
Soak the onion slices in water to remove bitterness.
Other options: add lettuce, radish, and chili slices. 
Related Post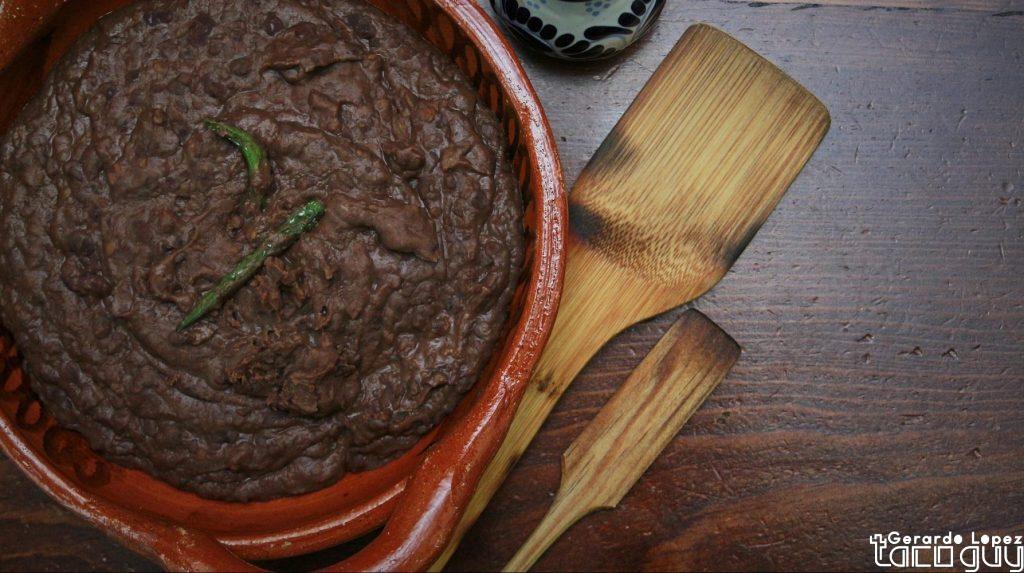 Refried beans
Frijoles Refritos
Other Recipes